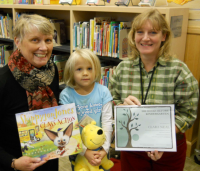 1,000 Books Before Kindergarten program has openings in Staples.
The Staples Public Library has openings in its 1,000 Books Before Kindergarten program. The goal of the program is to have parents read to their children from the time they are born until they begin school and beyond. Parents begin by signing their child up for the program. They will receive a folder for tracking books read and a free book bag. When the child reaches the 1,000 book mark they graduate from the program and receive a hard cover book with matching stuffed animal. A new app is available that parents can use to keep track of their child's books if they don't care to use the paper booklet.
1,000 books may at first seem like a big challenge. But reading just one book a night for three years from 2 to 5 will get the job done, and we recommend that families begin early in a child's life. In fact, it's never too early to read to children. The sooner they make the connection between books and letters and language (and fun) the better.
The library has lots of books for children, including board books. Stop in the library and sign your child up today!