Access online Great River Regional Library services including:
To take advantage of the full range of Great River Regional Library online services you need:
Your Borrower Barcode Number:

Numbers on the back of your library card

Your PIN:
Using The Catalog
From the GRRL homepage, click Library Catalog or enter a search term in the box on the right side of the page. Use drop-down choices for broader searches.
Continue searching by selecting from the headings on the Search bar and/or drop-down menus
Place Requests

Locate the item you wish to request
Click

Request Any Copy

button
Enter your Borrower Barcode and PIN
Click

Login


Check to see that Pickup location is correct
Click

Request


(Please add us to your e-mail address book: notices@grrl.lib.mn.us)
Manage Your Account
Quick Access From Homepage

Click Log In button on upper right

From Library Catalog page

Click Login link on upper right

Enter your full Borrower Barcode and PIN
Click the Your Account link on upper right

Renew

Click

Checked Out Items


Click box at left of each item to renew
Click

Renew

button
Items are renewed if the Due Date changes
Items are not renewed if the following message appears:
"One or more of your items did not renew. Please scroll down for details."

Fines/Blocks

You may pay fines online using a credit card
Click

Fines/Blocks

and follow screen prompts
 

Holds (Requests)

Click Requests and Holds to see list
Great River Digital Library
You can download eBooks and eAudiobooks 24/7 to enjoy with No Late Fees!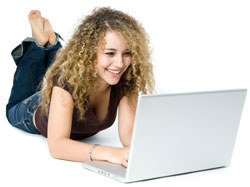 You Need:

A valid library card.
An Internet connection via PC, Mac or select mobile device.
Free, required software available at griver.org.

For eAudiobooks on PC, Mac and select mobile devices:
Overdrive Media Console.
For PDF and ePub eBooks on PC, Mac and select eBook devices:
Adobe Digital Editions

 

How It Works

1. Browse the digital library - search by title, subject, author or format
2: Check Out
Select items for your 'cart.'
(If a title is not available you may place a hold and you will receive an email when the title is available.)
Click on the 'Proceed to Checkout' link and enter your library card number and PIN.
3: Click the 'Download' button under each title to launch the software.
Once downloaded, enjoy immediately or transfer to a variety of devices such as iPod and Sony Reader.
4. Titles expire at the end of the lending period. No late fees!
 

Transfer to a Mobile Device

After download, most titles can be transferred to a mobile device such as iPod or Sony Reader.
First, connect your device. Then:
1. For audio, click the "Transfer" button in Overdrive Media Console to launch the Transfer Wizard and follow the onscreen prompts. For eBooks in Adobe Digital Editions, drag and drop the title onto the device name on the left panel.
2. After transfer is complete, you may disconnect your device and enjoy your title on the go.
See the.overdrive.com list of compatible devices.
 

Burn to CD

After download, many audio titles can be burned to CD. Insert your CD, then:
1. Click the 'Burn' button in Overdrive Media Console to launch the Burn Wizard.
2. Select the part you wish to burn.
 

Help Resources

Click the Great River Digital Library 'Help' link for more information.
MnLINK - Borrowing Outside of GRRL
MnLINK is a statewide service that makes Minnesota's public and academic library materials accessible with your GRRL library card. MnLINK is used to locate materials not owned by GRRL.
1. Search the GRRL catalog. If the item is available, place a request.
If not owned by GRRL…

2. Search MnLINK - available from the Databases search bar in the catalog or directly at mnlink.org.
Log in with your full GRRL library barcode number to request titles (by clicking Get It!). Do not enter PIN.

3. If not found on MnLINK, suggest for purchase or Interlibrary Loan using the Suggest a Title tab on the library catalog.
Databases - Your Information Store
Databases are storehouses of information. The information may be in the form of articles from newspapers and magazines, studies from professional journals, or content created for the Web. GRRL provides a selection of databases to assist your search for dependable information. You can access them through the Databases link on GRRL's home page.
You can search GRRL databases individually to limit the responses. You can also search them collectively by use of a "Select All" checkbox.
To search library databases from home, enter your Borrower Barcode # and your PIN.
Ask Us a Question On-line
Professional librarians are available to answer your questions.
1. From the GRRL homepage, click on Ask a Librarian.
2. Choose which service is most suited to your needs from options provided:
email
instant messaging
phone
in-person
and the AskMN option provided to all Minnesota residents and students 24/7
BookMyne™
BookMyne is an Apple App compatible with iPhone and iPod Touch devices. It provides a mobile connection between the Great River Regional Library catalog and users, including these added features:
1. Barcode scanning capability so library users can scan the barcode of a book and retrieve library availability information.
2. Social recommendation connection to Goodreads, a literary social network.
3. New York Times best seller list cross referencing with library holdings.
4. Personal account interaction, such as viewing fines and fees on your device.
Download the BookMyne application from the Apple App Store for free.
---
Tell Us What You'd Like To Add To Our Collection
We are always interested in hearing from library patrons about what titles they wish were available at their library. If you have suggestions, let us know using the Suggest a Title tab on the Library Catalog.